Flammable sample tap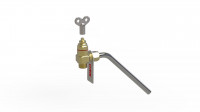 The 1910 flammable sampling valve is designed for sampling water from cold water and domestic hot water networks according to standard NF T90-522.
This model is particularly suitable for health facilities as part of periodic sampling checks (legionella, pseudomonas aeruginosa).
It consists of a brass body and a stainless steel tubing resistant to very high temperatures.